Word Swipe is a creative word search puzzle game with beautiful scenery landscapes from "Wordfun Games". It provides a simple and easy way to exercise your brain by solving puzzles. In this game, we have to search and swipe words from the letter blocks. Find words until all letter blocks are collapsed.
This topic contains Word Swipe Level 1 Answers, Cheats, and Solution. In case, if you're stuck at Level 1 you can use the answers provided below.
If you are looking for Word Swipe Answers for another level you can find them here.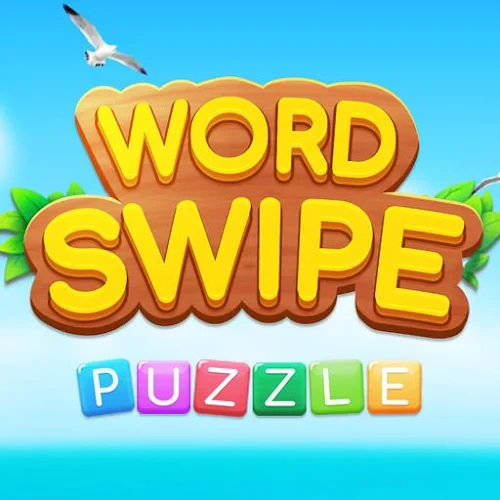 Download Word Swipe Puzzle Game for Android & iOS
Word Swipe Game Description
Do you like to play word games? Are you good at finding words?
Word Swipe is a CREATIVE & BRAND NEW word search game with beautiful scenery landscapes for FREE! It provides you with an easy way to exercise your brain by tapping and swiping on your mobiles' screens.
CREATIVE WORD SEARCH PUZZLES
Search and swipe letters to find hidden words.
Letter blocks crush after correct words are swiped out.
New hidden words will be formed after letters' collapse.
ADDICTIVE WORD FINDER WITH CLUES
A new kind of word finder game to tease your brain.
There is a phrase/word as the clue for every puzzle.
Try to find hidden words as many as possible.
CLEAR ANIMATIONS & AMAZING LANDSCAPES
Clear graphics and animations for each tap or swipe.
You can easily use "Search", "Hint" or "Shuffle" for help.
Change themes to get amazing landscapes as background.
THOUSANDS OF LEVELS FOR YOU
It starts easy and becomes challenging fast.
Find out more "Bonus Words" as possible as you can.
More challenges are on the go.
How to Play
Search words on the letter block square according to the clue(s).
Swipe letters horizontally or vertically to find and collect words.
Tap the "Search", "Hint" or "Shuffle" buttons when you get stuck.
Unlock beautiful themes by getting enough coins.
Find the "Bonus Words" which are not presented in the answers.
Word Swipe Level 1 Answers, Cheats, and Solution
After completing this level you can find bonus words and answers for Word Swipe Level 2 here.
Feel free to comment if you have any queries or suggestions.